Folks! I love Twitter. Hands down my favorite social media application. But sometimes, especially early in the morning or late at night, you just see ridiculous tweets. Here is what I saw at 7:16am on Wednesday morning, September 4th. No need to name or @ the person because they are private on Twitter, which is another joke. Why are you on Twitter if you are private? You must be tweeting pretty nasty stuff, and I am glad most of my followers didn't have to see this:
"5 fantasy football teams Im all in on the NFL. What a league. College FB is so trash compared to the king."
Just awful grammar. Where is the period/comma after teams? No apostrophe after the I? Can't even spell out football? Alarm must have been going off and he must have been having a nightmare about how his Oregon Ducks didn't cover versus Auburn on Saturday.
Oh my god! You have 5 fantasy football teams! You are so lucky! Your Sunday's must be so fun now because you have 5 teams! We go back on forth with a couple tweets, I am pretty much laughing at this point, and he goes:
"You like northwestern Stanford over a Bills nfl Sunday?"
He must have had Northwestern +6, which I would really feel bad about. If he had Stanford and Auburn.. Oh my what College Football Saturday he would have had!
First of all let me set the record straight. Bills Football is the top priority of the weekend. I haven't been able to stop thinking about the Jets all week. But am I waking up on a Wednesday morning thinking about the NFL slate on Sunday?! No chance. Thursday Night Football and Sunday Night Football will be nuts. But people.. don't make fun of Northwestern/Stanford.. How about Ravens/Dolphins, Redskins/Eagles, Colts/Chargers, Bengals/Seahawks, Lions/Cardinals, 49ers/Bucs. Can't wait! Give me a break. You definitely need fantasy football players in action to tune in to those matchups.
I feel like I have an internal alarm that wakes me up at 8:45 every Saturday morning for College Gameday, the GOAT pregame show. Doesn't matter how much I have to drink the night before, I always wake up to make sure the Washington State flag makes an appearance. Reece Davis, Kirk Herbstreit, Desmond Howard, and I have no idea how Lee Corso is still doing it but still is hilarious. And how about "The Bear" picks.. pretty sure he has a profitable record lifetime.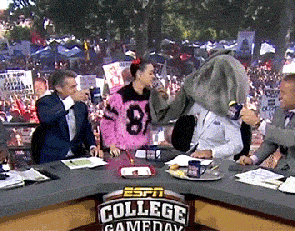 I am not going to count again.. but pretty sure there are over SEVENTY GAMES this Saturday for the Week 2 NCAAF slate! How can you hate on College Football?! Your Saturday starts at 9 am, 12:00 Big Ten, 3:30 SEC, 7:30/8:00 pm PRIMETIME matchups, 10:00 pm PAC-12, and then maybe a classic Hawaii midnight matchup so by the time you leave Chippewa your pockets may be even lighter..
All I am trying to say is, College Football is not trash. It is a real fun Saturday with a ton of great matchups, and you never know what is going to happen. You get over 60-70 games, with a crazy amount of conferences going at it. This weekend.. give me Ohio +6 and Bills +3. There is no need to hate on College Football. Don't blame your alarm. Don't blame your awful bets.



Please reload