Welp, it's that time of year again. The odd time in between Christmas and New Years. You're just about done stuffing your face from Christmas and could probablyyyyy eat healthy for the next few days, but instead you say "Ah fuck it, diet starts Wednesday." You're either sitting at home doing absolutely nothing or at work wishing you were at home doing absolutely nothing. Everyone is just waiting on the New Year to start.
Well before that, we have one more game left as Bulls fans before the start of the New Year and that is a road game at Canisius.
The last time we saw the Bulls, Markus Howard dropped a 40 piece on us in the second half and set the roof on fire by hitting like every fucking shot he took. I had never seen anything like it. I went back and watched it again and there was a hand in his face on most of those shots too. We just got unlucky and he was going to do that to anybody that night. Who really would've stood a chance against Marquette that night?
Virginia Cavaliers? Not a chance.
Bad Boy Pistons? He only went into the paint like twice. Nope.
The Monstars? This would be close, but his step-back was on MJ with secret stuff type levels.
How about a team of those inflatable air dancers that you see outside used car dealerships? 
Good length and activity, but I still think Howard somehow arcs his shots over them too.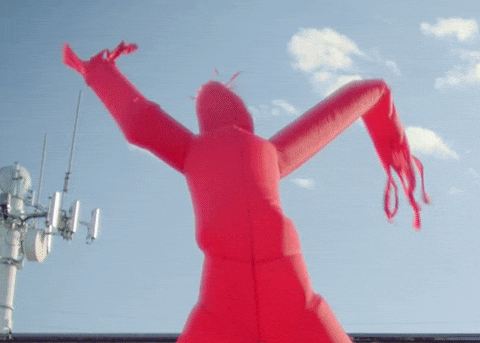 So that's that. We dropped 7 spots in the poll because fucking Markus Howard put 40 on us in 20 minutes. A little ridiculous to drop that much? Yeah, but you tell me we're ranked 21st in the nation going into Christmas and I give you a big kiss on the lips, tell you I love you and go running down my block in a Speedo banging pots and pans out of pure joy.
Anyways, onto Canisius. They're coached by former UB Head Coach Reggie Witherspoon and so far haven't exactly been playing up to their high expectations this year. They were picked at the top of their conference despite losing MAAC Player of the Year, Jermaine Crumpton, and have struggled so far without him. There may not be a bigger game for Canisius this year than a sold out game on their court (even if it holds the same amount of people as my stupid CYO gym held) against their nationally ranked rivals.
Reggie doesn't exactly like UB and he's going to come after us and do everything he can to get a W. I wouldn't doubt that he's been watching film on us since like Thanksgiving just to get his juices flowing. This is the Ultimate Look-Ahead Game for Canisius here. They've been so focused on us they haven't even been prepping for their other games. This is their Super Bowl.
They're led this year by Isaiah Reese and Takal Molson who both had big games at Alumni Arena last year despite the L they took. They're both long and skilled guards who can make just about any play on the court. They both tested the water for the NBA this summer, but came back to school.
***Disclaimer: That doesn't mean much though as I could've tested the waters for the NBA and decided to come back to school for another year. There's not much room in the NBA for a 5'10 small forward like myself who can't create shots for anyone at all. My lack of dribbling skills is noticeable and not desirable.
The Bulls will come in focused and ready for the challenge after the break despite conference season being right around the corner. I think Perk could be the one to have a big game for UB here. There isn't a strong presence down low like there was the past few years and Coach Oats may want to get some easy buckets to start off the game in a packed gym. 
UB won't be underdogs in another game until March and the target is officially on our backs again like in conference all last year. Everyone wants a piece of us and will give us their best shot from here on out and it starts tomorrow against Canisius.
Let's own Main Street for the sake of all of the fraternities and sororities that live right off there and throw parties that get busted before midnight because it's almost impossible to throw bangers in residential neighborhoods. Win this one for them.
***Disclaimer on why I suck at basketball. I  left A LOT out and was very nice to myself. (I'm really bad)



Please reload